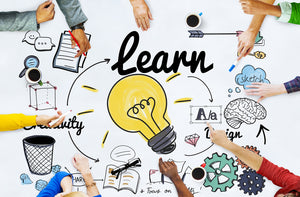 It was just a training race, it wasn't really important...
'It was just a training race, it wasn't really important...' How many times have I heard that phrase thrown about? 
Using races as 'training' or to 'monitor progress' can be really useful. Let's face it, most people are training because they want to be better in races, proper races, the ones outdoors where other people turn up on the same day. So, if you want to monitor progress for 'proper races' and learn from the experience, then 'training races' can undoubtedly be useful. 
When you start planning out your calendar for 2021, you will have races which are less or more important to you. Coaches generally class these as A, B & C races. The 'A' races are the big ones (maybe 1 or 2 a year), the 'B' ones are the other events which are still of 'some importance' and the 'C' races may be local time trials or Parkrun etc. 
Early in the year, you can use 'C' and then 'B' races to 'see where you're at' and learn from them. To do this you first need a plan, so start by asking yourself these simple questions: 
> How important is this event in the grand scheme? You might think that even the smallest event is important, maybe you're desperate to beat your mate at the Parkrun on Saturday, but that's hardly an event to build your season around. So have a real think... is it 'A' (2-3 per year), B or C? 
> Why are you doing it? Sometimes that's a harder question to answer than you'd think... Maybe you've entered a half Iron distance triathlon 6 weeks before your full Ironman, because everyone has told you that's the thing to do... Maybe you just enjoy a certain event, maybe you want a PB or Kona qualification?
> What do you want from it? No, it's not quite the same question as above. If you've entered a half Ironman as your prep for a full Ironman, then why? What is it you want from it? How is it going to benefit you? Or have you just entered it because that's what everyone else does?
> How can you use the event to your benefit? Put a plan together, create a list of things which you feel that you need to achieve and then devise a process by which you can achieve them. Spend some time reflecting on season's past, what stuff did you really struggle with on race day? 
These things will fall into 2 categories, those which are generic to everyone and those which are personal to you. For example, generalised strategies may be a slick transition, correct pacing, correct nutrition. These things can be applied to everyone. Personal things are specific to you, perhaps you lack confidence in open water swims? Maybe you suffer from extreme anxiety? You should have a process for dealing with those things and like everything else, it requires practice.  Use your C & B races to fine tune your skills, but it won't happen unless you sit down the week before, decide what you want to achieve, formulate a plan, then more importantly, execute it on event day. 
This kind of stuff typically has everyone nodding their heads going "yeah... agree" but very few athletes actually sit down in the week prior to B & C races and write down a list of things they'd like to achieve and how they will achieve them. It's textbook coaching advice, but it's rarely applied. 
Here's some other stuff to consider for 'training races' 
1. Don't use it as an excuse
"Yeah... today is just a training race... I did a long ride yesterday and I haven't tapered so my legs are still tired".... Ok, that's fine so why are you actually taking part? If you've identified some things that you can learn from the race, then fine, but don't make bullshit excuses after the event to justify why you didn't win. Shoulda, woulda, coulda... nobody cares, not even on social media. Take the positives from it and be happy. 
2. It's hard not to be disappointed
To follow the point above, if you turn up to a race fatigued because you're 'training though it' then you probably won't do your best. That's fine, so long as it's part of a bigger plan and 'there's a point in you being there'. But when you perform badly, you'll probably still be disappointed... Don't turn up tired, perform badly, then go home sulking. You knew what to expect?
3. When it's time to test yourself, commit and lay it on the line
Turning up to an event, resting for a few days and mentally committing to do your best is very hard for many people. The reason being, they're about to find out if they're really as good as they hope they are. They're laying it all on the line and the truth is about to come out (see point 1 about bullshit excuses). 
Have you ever been driving to an event, feeling nervous and a small part of your brain starts to say... "maybe you could just take the bike steady today.." Can you see what's happening there? Commit and give it your best, then be happy with the performance.
4. Make your mind up and stick to it!!
> You are taking part in a local triathlon on Sunday which is a 'C' race, but you don't want to miss your long 18 mile run the day before, as Ironman is only 12 weeks away and that's more important to you. So you do the long 18 mile run Saturday (the right decision) then race on slightly tired legs Sunday.
During the long run you start fretting... maybe this is really going to leave you tired for the event tomorrow? Maybe you should cut the run short now and go home? You continue the run but don't enjoy it and then the next morning, you wake up and your legs are tired... You then have a really negative day and feel down about underperforming at the triathlon as well. Well done, you've ruined both workouts, you win the star prize!!
The run was critical in the big picture, commit and get it done, don't worry about the day after. Have a positive run and tick that box towards your season's main goal. On Sunday, you knew you were going to race on tired legs, so what can you take from it? Nail the swim start? Slick transitions? Nail your nutrition plan? There's lots of positives to be taken from events aside from a PB. 
>You've entered a half Ironman race 4 weeks before your Ironman and you're worried that it might ruin your main Ironman event which is your 'A' event (If you're worried about it, then that's enough of a warning signal to do something about it). Ask yourself why you're doing the half Ironman, what do you want from it and what can you get from it? Decide on a process or strategy, implement it on the event day then evaluate it afterwards.
You may decide that you are going to nail the swim strategy, bike hard and nail your nutrition plan. You're then going to run easy to ensure a quicker recovery the following week. Once you've made your mind up, commit to it and do it.
Don't be stood on the start line still not knowing what you're going to do when the gun goes off. Don't get half way through the bike and think, 'maybe I'll run hard instead'. Don't get half way through the bike and feel stressed thinking, 'I shouldn't be here, what If I don't recover over the next 4 weeks?' 
5. Never make the assumption that training relates to racing
The final thing I'd say is never assume that training data will translate to racing. It doesn't matter what 'data' you've been producing on the turbo, or the splits you've been swimming in the pool. The only thing which will tell you how well you're racing, is racing. A training schedule is just a process of physical conditioning and a race is so much more. It's really common for people to turn up the the first race of the year and based on their indoors workouts, they think they're going to smash it. What they actually get is a large shock.
If you consistently find yourself scratching your head because you think that your race performances don't match your training data, then this year perhaps focus a little less on the training plan and a little more on what's written above. 
Get those races entered, 2021 is going to be great. I'll see you on the course!
It's 16 weeks to summer and you're entering the critical phase of training, DON'T LEAVE IT TOO LATE!! If you'd like to join our coached triathlon squad, for £40 per month you'll get regular sports testing at our venue, a structured plan and as much ongoing support as you need. Read more by GOING HERE 
Marc Laithwaite is a level 3 qualified coach, who has been coaching endurance sports for the last 22 years. He is a former sports science lecturer of 12 years and spent 2 years with the British Cycling team as a bloods analyst. He has worked with British Triathlon Coach Education as a coach educator and spent 5 years as head coach of the NW Regional Triathlon Talent Squad. He's also a former national age group triathlon champion, European duathlon champion and Ironman age group winner. His FTP is appalling and he often blogs about how FTP is 'not important' to make himself feel better. 
---