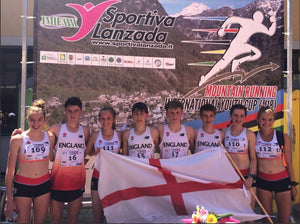 Finty Royle June Update
I'm Finty, one of the Endurance Store sponsored athletes. As you may be aware, I'm a fell runner from Brinscall. I am also currently studying medicine at Lancaster University. As I'm writing this, it's actually been four years to the day since I travelled to Lanzada in Italy to represent England at the 2018 Mountain Running International Youth Cup. This is me and some of the England Team. I'm 3rd from the left.
Since then, I've been privileged enough to represent England a further four times; however, recently, I missed out on England selections. I was pretty disappointed if I'm honest because although I probably have more running speed now than I ever have, it's not really showing in my results. I'm kind of in a middle ground at the moment where I'm no longer a junior, but neither have I developed the speed of a fully-fledged senior. It's quite a tough transition when you're used to being rewarded for your efforts through your results. So I'm not going to lie; this year has been challenging for me in terms of running. I've sometimes struggled to be motivated or find the time, especially since starting my medicine degree. But at the end of the day, the thing is, I really enjoy running. So I've somehow managed to keep up my mojo and in the process, meet some great people through my new running club at Lancaster University, and all the while significantly improving my 5k time through some good, structured training.
Fell running is a sport I really love. I love how I can just forget about everything and be alone for a while, going from having this massive looming mass in front of me to being at the top of a hill or mountain and everything else seeming so minuscule. It really puts things into perspective. My favourite part of mountain running isn't getting to the top but actually the journey of getting up there. The way that the scenery changes and the way I feel a sense of achievement with the climb.
It's the same with success. It isn't found on the mountaintop but in the consistency of the journey. If I'm running up a hill and it's hard, I know that as long as I keep making small steps forward, I'll get there eventually. It's the same with other goals we have. If we keep making small changes in our lives and habits, significant changes and achievements are possible. Success is in what we choose to prioritise and how we build habits. It's about taking small steps over a long time and being consistent.
I have done some nice, friendly little Fell races over the past few weeks and enjoyed them. Having mainly focused on the bigger events and the national series last year, it's been good to do some of the smaller events. They have a very different vibe. Paddy's Pole on a midweek lovely summer evening and The Pen y Ghent Fell Race were particular highlights. Then this weekend I did a much bigger race. I raced at the British Fell Running Championships finishing 14th senior and 2nd U23.
Funnily enough, in all of these races, I've finished second position. I could see this as something to be disappointed about - if I define success as winning. But then again, say I'd expected to be midfield and came second, I'd have been really pleased with 2nd place. Likewise, I was actually second to some top-class athletes and that is also a measure in itself. We can define success in different ways and by looking from different perspectives. It can be determined by enjoyment, by our own personal performance, by comparing our performance to others, or by the quality of preparation. It could even be defined in relation to failure seeing as success is very much seen on a scale with success at one end and failure at the other. It's far too easy to let other people define your success by basing it on what we see on social media and therefore aspire to.
As athletes, we often build mountains for ourselves when we don't need to. I think we primarily base a lot of our success on others - because that's kind of the whole point of sports competition. But in reality, we're always going to have to fall back on our own personal success when things go wrong, or we don't perform as we hope - so I think this is always good to consider. Running can be a sport with many highs and lows, so success is often found in how we deal with these. Not just in the results sheet but also in personal growth.
So, I think for me, success at the moment is about being consistent and keeping at it. Hopefully, with the help of The Endurance Store and my coach, I'll be back in the England ranks in the near future.
Finty Royle
June 2022
---