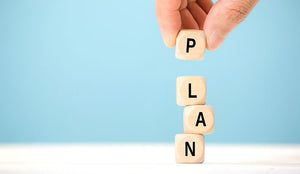 Montane Lakeland 50 & 100 Training Plan 2023
For all those who are entered into the Montane Lakeland 50 & 100 event for 2023, we'll be posting a free training plan which will begin Monday October 3rd and build progressively to the event, which takes place July 28th-30th 2023. The plans and supporting blog posts will be posted in the Lakeland 50 & 100 Ultra Trail Race Community Facebook Group on a regular basis. 
The plan will accommodate both the 50 and 100 mile event and will be suitable for most of the competitors who are looking to successfully complete. If you're not taking part in the 2023 Montane Lakeland 50 & 100, you are of course welcome to join us on the training journey for whatever race you're training for! 
Some people may wish to follow the plan strictly and others may follow it more loosely. Whatever your plans, there's sure to be something that you'll take from the plan, which can be applied to your own routine. 
Now... we are aware that when posting a training plan to a Facebook group, that multiple experts will reveal themselves from the woodwork and explain in great detail 'how they would do it differently'. The message is simple, if it makes sense to you, then follow the plan. It's there to be utilised rather than constantly questioned. It's there to provide structure and help for those who need it.
The plan cannot be perfectly tailored to fit each individual, but it will provide a solid structure from which your training can be based. Follow the whole plan as prescribed, or 'cherry pick' the pieces of advice that are most useful for you. If you disagree with the plan... you can choose not to follow it and simply move on. 
One of the main reasons for publishing this training plan is to engage as many people as possible and help to make the journey more memorable. It's 10 months to the 2023 Montane Lakeland 50 & 100 which is a big gap to fill. The training plan you'll follow, the progress you'll make, the places you'll visit and the people you'll meet are all part of the experience, the event is simply the finale to journey. 

I'm sure many are familiar with the term 'it's all about the journey, not the destination' ... Well this training plan is a small part of that journey. There will be many great days on the trails between now and July and we want to hear about your progress, your experiences and we also want to see your photos on the Facebook Group. We'll invite a few other experts to join the group and we'll hopefully be able to answer all of your questions. 
As part of that journey, you'll have other events which can be used as 'bench marks' and no doubt you'll be out on the course, learning the route in preparation for July 2023. 
We have 4 Montane trail running events as part of the build up:
Delamere Forest January 15th
Grizedale Forest February 5th
Howgill Fells May 14th
Ullswater Way June 3rd
You can read more HERE

We also have 4 official recce days to help you familiarise with the route:
Coniston to Buttermere November 13th
Ambleside to Coniston January 21st
Buttermere to Dalemain March 19th
Dalemain to Ambleside June 18th 
You can read more HERE

There will of course also be a Christmas Virtual Challenge which will closely follow the story of a fox and a giraffe who save Christmas using nothing more than a pineapple and a monkey wrench (we appreciate that the theme may still need some work).
Whether you're taking part in the 2023 event or not, come and join us. It's going to be an amazing 10 months and we're looking forward to the journey. 
Regards
The Endurance Store / Montane Lakeland 50 & 100 Team
Coaching background & credentials: Marc is a former sports science lecturer of 12 years and Level 3 coach with 25 years of experience, having coached over 1000 athletes. He's a former coach educator for British Triathlon and Bloods Analyst for British Cycling Team. Raced Ultras for many years and was part of the SAAB Salomon Adventure Racing Team, competing on World Series. Multiple Ironman Triathlon Age Group Wins / Podiums and 2:36 marathon PB. He has a fetish for fancy dress and he's a lover of all things fox related. 
---